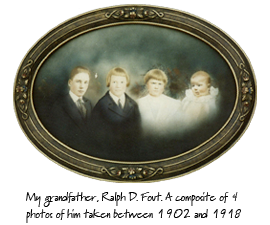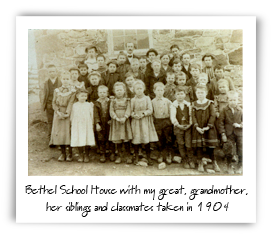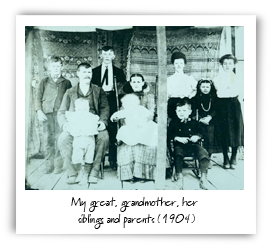 Testimonials
Marcia B., South Carolina

"If you're looking for a top notch genealogist in the Frederick area then Bob Fout is your man! My association with Bob began in March 2010. After a 10 year hiatus from researching my family tree, I decided to pick it back up again. My first goal was to replace the copies of Wills I had in my files from the 1800's with newer copies, hoping the newer copies would be more legible. I needed a contact in Frederick to help me with this project and I didn't know where to turn, so I called the Historical Society of Frederick County for advice. They recommended Frederick genealogist Bob Fout. I have to say that was a great recommendation and I've not been disappointed! Also, Bob has always handled my research requests in a very timely manner.

As it so often happens, as it did in this case, one thing leads to another. After a countless number of e-mails, several projects (large and small) and 3 trips to Frederick, I have been able to fine tune my family history with Bob's help. He has always gone out of his way to accommodate my needs. Two projects especially come to mind... There is an old family cemetery about 30 miles outside of Frederick where a family member was buried in 1842. This cemetery is not marked and cannot be seen from the road. Bob knew of the cemetery but he had never been there. Still, he was willing to take a road trip to help me find it! We did find the cemetery that day, but unfortunately for us, our field trip was in mid Spring. The cemetery was in the woods, covered in vegetation and briar's, which made it impossible to search for headstones! We decided we needed to plan another trip for the following year. I am pleased to say that in early March of this year (2012) we did go back to the cemetery. The vegetation was minimal and all the headstones were there just waiting for us! The other project that comes to mind is a private tour of Frederick that Bob gave to our family. Through my research, I was able to put together a list of properties/locations that I especially wanted to see that involved my ancestors during the 1800's to early 1900's. Bob took my list and incorporated it into his. It was a wonderful tour and very educational! Bob has great knowledge of "old Frederick" and as the city is today. The tour started me on another aspect of research; deeds for the properties once owned by my ancestors. With Bob's help I acquired several! In ending, I want to say that if you're like me, and want to be hands on and involved in researching your family tree, Bob Fout can and will help you fine tune your information. If this is the first time you've thought about your family tree or you're not a hands on person, Bob Fout can handle it all!"

Rebecca C., Virginia

"Bob provides an outstanding service to the genealogical community in Western Maryland, but the scope of his work reaches far beyond the state's boundaries. With a deep-seeded passion for history and genealogy, Bob will go to the furthest extent possible to gather information for clients. He travels from repository to repository as the work requires. Bob is not only great at his work, but he has committed his time to helping local Frederick archives and libraries build their genealogy reference collections, which shows his dedication to fostering genealogical interest in the local community."

Sandy P., Maryland

"I met Bob Fout via the Internet 12 years ago. We were each researching German ancestors who had both been glassblowers at a late 18th century Maryland glass works. Meeting Bob was a very fortunate connection. He had concentrated on his county history and genealogy for years and generously shared his expertise and research. As a volunteer at the historical society, Bob was familiar with its resources. On a variety of occasions, he invited me to join him on visits to the historical society to examine valuable original ledgers in the collection and to view glass attributed to the glass works. He was also extremely knowledgeable concerning other sources of information in the area and directed me to library and courthouse records. Bob also arranged a driving tour of the original glass works site and pointed out its few remaining structures. It was an extremely exciting experience for me to see and photograph this area, realizing that my immigrant ancestors had lived there from the 1780s into the early 1800s. We even visited a neighboring community to view tombstones of a few descendants from the glass works. My glassmaking ancestors relocated to Pennsylvania after the early glass works closed. Bob's relations remained in the county and continued producing glass in one of the original furnaces. Bob arranged a visit with the current owners of his ancestors' property. No visible trace of the old glass furnace exists, but we found shards of 200-year-old glass, which had worked their way to the surface. To top off that day, Bob had invited another local researcher to join us and he invited us to his home to view and photograph his glass collection – including pieces from the old glass works. What an experience! Bob is exceptionally well organized and very thorough, has years of experience researching and his enthusiasm for the subject is boundless. I would enthusiastically recommend his services."

David S., Massachusetts

"I have been researching my family history for twenty years and find at times the need for professional assistance sometimes for knowledge of a specific location as well as for a particular period in time. I recently was in need for such professional assistance for research in Western Maryland including Frederick and Washington counties, and contacted Bob Fout who had been recommended by one of the local genealogical websites. Bob responded right away to my request for professional assistance with my research. He made the time to meet with me at the Washington County Library where his thorough knowledge of the area history and familiarity with local resources became immediately evident. He located the pertinent library resources and recommended follow-up research for land records which he successfully completed and providing copies by mail. I found Bob's thorough understanding of the Western Maryland area and his professional approach to genealogical research to be of the highest level and would recommend to anyone for their own genealogical research needs of the region."

Janet W., Maryland

"Bob is a very enthusiastic and devoted researcher of ancestors. Having had him work on my husband's family and my own family, is the proof positive of Bob's work and dedication to find every aunt, uncle and cousin. He is honest in his work ethic and has a great store house of background material. Genealogy is an interesting and worthwhile endeavor and Frederick County is lucky to have him in residence and available."

Marian C., Indiana

"I want to thank you for the work you did for me in York County, Pennsylvania, especially regarding my great-grandfather Swartz/Schwartz. In two visits to York, you managed to discover and copy an enormous amount of material, which enabled me to learn something about his life before he came to Indiana. As a librarian, I appreciated that you provided citations for each document and gave me a detailed explanation of where and what you looked for and a list of documents you found and copied. You provided excellent service at a reasonable cost and I would recommend you to others."