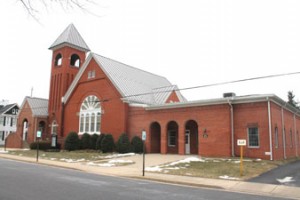 BAPTISM RECORDS: 1769-1829 ◊ 1830-2005
MARRIAGE RECORDS  |  DEATH RECORDS
History of Glade United Church of Christ, Walkersville, MD
Glade Church was founded in 1750 by Rev. Michael Schlatter, a German Reformed pastor. The original church was located on the outskirts of Walkersville (1750 to 1896) and then moved to Fulton Avenue (1896 to present).
Around 1748, the Rev. Michael Schlatter from the Holland Synod was sent to the Monocacy area to organize churches for the German Reformed settlers. Rev. Schlatter wrote that "a new Reformed congregation was formed in 1750," and referred to it as "the Church in the Glades."
From 1750 until 1833, Glade Church was part of the Frederick Charge, which included most of the German Reformed churches. There were 10 pastors, including Rev. Schlatter, serving this charge. In 1833, the Reformed congregations at Glade, Woodsboro, and Creagerstown became Glade Charge. Later, the Charge was re-aligned to include only Glade and St. John's, Woodsboro.
The Rev. Atville Conner (1892-1898) oversaw Glade Church's move from the country to the town of Walkersville in "the Mt. Pleasant District" on one acre of land purchased from John H. Stauffer. The new church was built and dedicated in 1896. In 1899, the old church was torn down and materials from it were used to build a new parsonage next to the church.
In 1957, Glade Church became part of the United Church of Christ, and changed its name to Glade United Church of Christ (UCC). In 1983, Glade Charge was dissolved, and St. John's and Glade became single churches. Complete renovations of the sanctuary, social hall, and part of the Educational Wing, making the facilities handicapped-accessible and unifying the worship space, were completed in 1997. In 2000, as Glade UCC entered and embraced the 21st century, the people of Glade celebrated 250 years as a congregation.
These records are published and made available for free by Bob Fout, Genealogist. You may use these records for personal research.  You may not repurpose, republish, or otherwise make these records available to others for personal gain without written consent from Bob Fout.