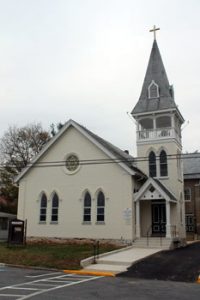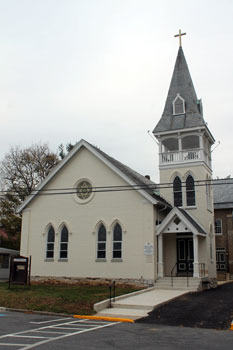 BAPTISM RECORDS: 1951-1989 ◊ 1966-1971 ◊ 1989-2013 ◊ 2001-2002
MARRIAGE RECORDS: 1957-1988 ◊ 1967-1971 ◊ 1989-2014 ◊ 2001-2002
DEATH RECORDS: 1954-1988 ◊ 1989-2015 ◊ 2000-2002
History of Walkersville United Methodist Church, Walkersville, MD
In 1855, the Methodist Protestant congregation, then meeting in Israel's Creek Church, started to build Shiloh Church in the village of Walkersville. On July 23, 1855, the Methodist Episcopal congregation was formally organized as the "Methodist Episcopal Church of the United States of America of the Israel's Creek Meeting House in Frederick County and State of Maryland".
The original wooden church building and the "brick church" which followed were located in the burying ground a mile north of the village. Though the two groups worshipped in the same meeting house, they finally came to a parting of the ways. About this time the old Israel's Creek building was destroyed. During the interval between the destruction of the opening of Shiloh Church, the Methodist Protestant congregation worshipped in the "woods", located approximately where Walkersville Middle School now stands. The Methodist Episcopal congregation held services, when weather permitted, in a woods on the north side of the road leading from the Israel's Creeks Church site west of Glade Cemetery.
On July 23, 1880, the site of the present church was deeded and in 1885, the church building was constructed on this land along Main Street in Walkersville. It is not known exactly when Shiloh Church was closed but some members of the Protestant congregation came into the Methodist Episcopal Church.
In 1939, the three branches of the Methodism, the Methodist Episcopal Church, the Methodist Protestant Church and the Methodist Episcopal Church, South, all merged. The united church was named the Methodist Church.
On January 4, 1970, the Georgetown Chapel and the Israel's Creek United Methodist Churches voted to merge. The combined church was renamed "The Walkersville United Methodist Church", with the first consolidated church service to be held on March 1, 1970.
These records are published and made available for free by Bob Fout, Genealogist. You may use these records for personal research.  You may not repurpose, republish, or otherwise make these records available to others for personal gain without written consent from Bob Fout.